I went to see Parasite with two of my classmates last weekend. None of us knew what it was about, nor the genre. I hadn't even seen its poster. We just heard the film was highly praised by many critics, and us fellow cinema students never miss a chance to see these hit films to decide for ourselves. In terms of expectation, I thought I had none. But Parasite met them all.
The first half has a comedic tone where the second half becomes a thriller until it turns into a horror, and the film succeeds in all moods. Moreover, I enjoyed Parasite for its aesthetically pleasing visuals in terms of setting and mise-en-scène. The Parks' home is minimally, beautifully decorated, and spacious. The view from the living room is their perfectly manicured garden, whereas the Kims' view is the ground level street which drunken people use as a pissing corner.
Usually, in the films highlighting the income gap, the low-income family is highly moral and loving in contrast to the distant family relations and corrupt mindset of the rich. In Parasite, both families have strong family bonds and close ties to each family member. We don't see Mr. Park in any shady business. There isn't a particular villain, yet there is an enormous disaster. The film restrains itself from creating caricature-like characters and creates profoundly real and personified ones. Everything adds up in terms of characters and events.
The Kims are not necessarily evil people; they are simply opportunity seekers. The Parks are not unintelligent people; it is just that they can afford not being skeptical. As Manohla Dargis points out for the New York Times, "Yet they're not gullible, as Ki-taek believes, but are instead defined by cultivated helplessness, the near-infantilization that money affords." Having an immense wealth allows the Parks to depend on their poorer workers for their most basic needs. They can afford to omit background checks. Thus, the Kims learn to seek opportunities in their "disability." This is not because there is something special with the Kims. They just learned how to figure things out in this life, because they had to. Ki-jung, as the art instructor, simply "googles" to figure out these psychological dissociations, which is enough to astonish Mrs. Park.
Within the film's diegesis, there is no particular good or evil. However, there is another layer to the story in relation to the cultural and political circumstances regarding the income inequity. As Brian X. Chen wrote for the New York Times: "That inequity, combined with scandals involving corruption among the privileged, have bred so much bitterness and frustration among Koreans that new slang phrases have emerged in recent years, like "gold spoons" and "dirt spoons."" This is the reason why the Kims have no haunting guilt while tricking the Parks to extract their resources. Historically, wealthy means corrupt, so they somehow deserve it. As the employment process initiates with family and background check, the privileged are opted for, which results in an ever-growing income gap keeps growing with employment opportunities favor the "gold spoons." Therefore the story reflects a very problematic aspect of Korean life, which leads the less fortunate to deceit or to forge diplomas.
The film was celebrated in its home country as well because it resonates with the events in recent history. The rich people are disgusted by the dirt and the smell of the poor. As Brian X. Chen notes: "… the impeached president, who was seen on TV news hiding her hands behind her back when a supporter reached out to shake her hand. The incident went viral." The film is rich in cultural and political details, which are not very alien to other cultures, which results in its successful outcome.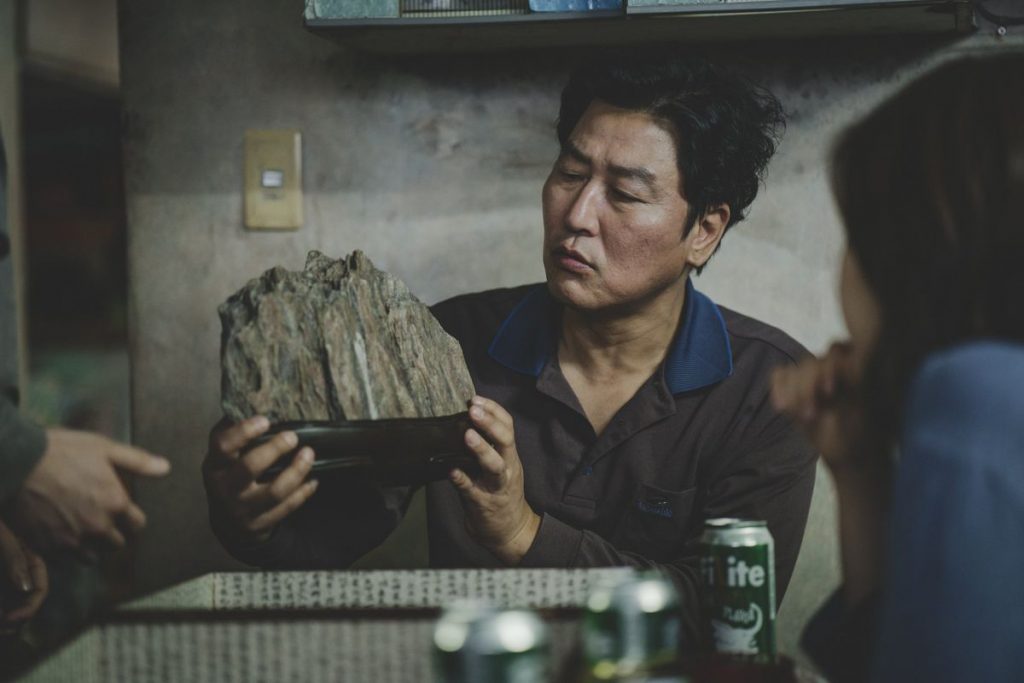 The symbolic rock, called the "scholar's rock," is well-known for the Asian viewer but not for all the Western viewers. That's why the director admits he had to introduce this rock in an intendedly odd scene to make sure the viewers don't miss it. It seems to bring great fortune to the family until it proves to be "cursed" and gets covered in blood after becoming an actual weapon to smash one's head with. After I saw the film, a Korean friend told me that these rocks were believed to bring either immense fortune or a catastrophe. There once was an emperor who was obsessed with these stones that he had a vast collection of them. So the metaphor turned out to be a cultural detail, which for me adds a whole another layer to the film.
Parasite succeeds in scaring when it's horrific (The scene where the boy sees the basement man and mistakes him for a ghost haunted me in my sleep). It does well in amusing when it's comedic, and makes you think when it's socially realistic.