Witchcraft and darkness harbor in a world-renowned dance company in Berlin, and the feminine energy is igniting.
At the very beginning, director Luca Guadagnino hints the gist of the film in written form: A mother is a woman who can take the place of all others but whose place no one else can take.
The main character is Susie (Dakota Johnson), whose mom is dying, and tells the local clergy that her only regret in life is giving birth to Susie. Leaving her birth mother behind, Susie's story with darker mothers begin.
The film makes use of rooms encircled with mirrors in creating a beautiful cinematography. Keep in mind that seeing a character's reflection on the mirror in a film generally means that we are about to see a different face of that person. There is literally a hidden passage to witchcraft behind the mirrors. After Olga bursts out that Madame Blanc (Tilda Swinton) is an evil and manipulative witch, we get too see that she is not quite mistaken.
Despite the accustomed idea of a strict ballet instructor, on the outside Madame Blanc seems sweet, loving, and motherly. On the inside, she is a witch. The perfectly symmetric scene centring Madame Blanc and Susie is shot through birds-eye view. Both with braided long hair, the two look pretty much alike and the instructor resembles the older and wiser figure of the student. She gives hand to Susie, passing the magic, then leaves the frame.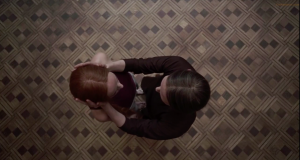 Since the beginning, Susie seems to have an incredible raw talent, which addresses that she intuitively responds to the powers of the witches. But instead of following them, Susie finds the power within.
In the ritual scene, Susie has her breasts out, resembling a nurturing mother, and the dancers are naked as the day they were born. In contrast to what Madame Blanc tells about dance, that it is not beautiful nor cheerful, Susie (or Mother Suspirorum) asks the girls to dance, saying that it is beautiful. She affectionately gives them what they want, even if it is death. She resembles a gentle mother when she sings Dr. Klemperer a lullaby before erasing his memory.
The film is a powerful remake of Dario Argento's 1977 original with the same title. Madame Blanc's statement "One angle, one mirror, one film is never enough" is a direct reference to the original. Another subtle touch is with the casting of Dr. Klemperer's wife Anke; who is played by Jessica Harper, who played Susie in the original Suspiria.
Note that Dr. Klemperer was also played by Tilda Swinton, and the director says that the decision to cast a woman for the only main male character was in order to stay true to the film's core message about female identity.
I had no idea what to expect of a 152 mins long supernatural horror film, but I think Suspiria met them all.