Here is a film for the ones who enjoyed watching Russian Doll.
What would you do if you were stuck and live the same day over and over again?
Phil (Bill Murray) is an arrogant weather forecaster who comes to Punxsutawney, Pennsylvania with the beautiful producer Rita (Andie MacDowell) to do a broadcast on Groundhog Day. Phil ends up living the same day over and over for almost a decade until he turns his life around.
Danny Rubin, the writer, says he was inspired to create a character that is stuck in his worst day. He needed the character to be away from home and somewhere he would rather not be. He chose Groundhog Day because it is a special day, but not too special. The script was rejected by many studios before reaching director Harold Ramis, who immediately fell in love with the project.
Even though the film is frequently labelled as a romcom, it deals with a philosophical, an existential cause. The character is stuck in a time loop and he has to figure out how to break the cycle. From a spiritual point of view, the soul comes to life many times until it fulfils its purpose. There are also many viewers who believe the film is set in the purgatory.
The main character Phil is named ironically because he cannot feel. He doesn't seem to have anyone or anything in his life that he loves or cares for. His arrogant and selfish nature is forced to change in order to escape his entrapment.
The star of the day, Phil the groundhog, is surely for a symbol of Phil the weatherman. The rodent comes out from the ground as a harbinger of whether the spring has arrived early. If the world is still cold, he retreats to his den. Similar to our main character, he protects himself from the outside world by simply not participating.
Phil's first response to what if there were no tomorrow is that he could do whatever he wants. Thus, claiming he will never gonna live by their rules anymore, he starts to "enjoy" life by breaking rules, eating junk food, smoking and so forth. Now that there seems to be no consequences to his actions, Phil gluttonously does everything (including killing himself) to excess.
Every morning at 6:00, as he wakes up to an endless repetition of February 2nd, his alarm clock plays "I Got You, Babe" by Sonny and Cher. The title of the song is as if the fate is mocking Phil, but it may also be interpreted as a hint for Phil to possess feelings for someone, to be specific, be worthy of Rita's love in order to break the cycle.
"Well maybe the 'real' God uses tricks, you know? Maybe he's not omnipotent. He's just been around so long he knows everything."
At some point, Phil questions if he is god because he eventually gets to know every little detail about the town and its people. While watching the TV game show Jeopardy, he knows the answer to every question, even to the ones not yet asked; but it doesn't serve for anything, and he doesn't take any kind of pleasure. Accumulating knowledge does not equal wisdom; wisdom is to use the knowledge to free oneself.
Thus, he learns to make use of it. He begins to take piano lessons. He learns to carve ice to make sculptures, which is significant in the sense that it would have melted the next morning anyway. He begins to use his knowledge to help people, whom he unavoidably learned so much about. Despite his hardest efforts to save the homeless man, he bitterly learns that he can't save every soul. Thus, he focuses on others such as the choking man and the child that falls from the tree.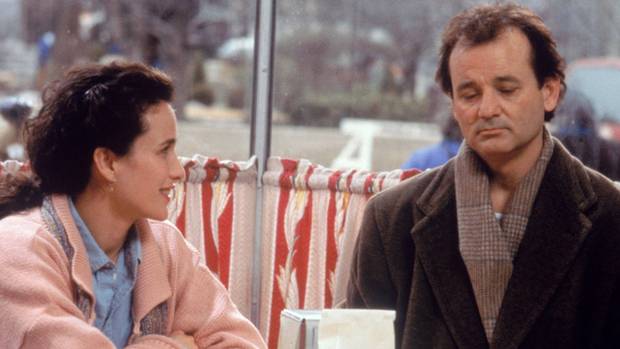 "Whatever happens tomorrow, or for the rest of my life, I'm happy now… because I love you."
Phil finally accepts his fate with these words, claiming that waking up to the same day forever will not acerbate him anymore. He is redeemed through his change together with his acceptance, and the next morning he wakes up to February 3rd.
"When Chekhov saw the long winter, he saw a winter bleak and dark and bereft of hope. Yet we know that winter is just another step in the cycle of life. But standing here among the people of Punxsutawney and basking in the of warmth of their hearths and hearts, I couldn't imagine a better fate than a long and lustrous winter."
With these romantic words, he decides to live in Punxsutawney where he was unhappily stuck earlier. Interpreting this film into our lives; life might sometimes seem like an endless winter, but it is beautiful when spent for and with loving souls.
The time stops for Phil to turn his life around to fulfil the needs of his soul. Even though this is presented as a curse within the film, he might actually be blessed. Time does not stop for us to find a purpose in life, to nurture our soul, or to give a chance to redeem ourselves. Unlike him, we can't avoid death. So why not start changing today?